Premium Construction
Double layer sidewalls reinforced with carbon fiber create a rigid & stable paddling experience for riders and their loved ones.
The most feature packed paddleboards on the market.

Seat & Strap Mount
Four stainless steel D-rings allow riders to connect a variety of seat attachments or the included shoulder carrying strap for easy & comfortable transport.
Accessory Mounts
Designed ot allow riders to attach the fishing rod and cup holder accessories.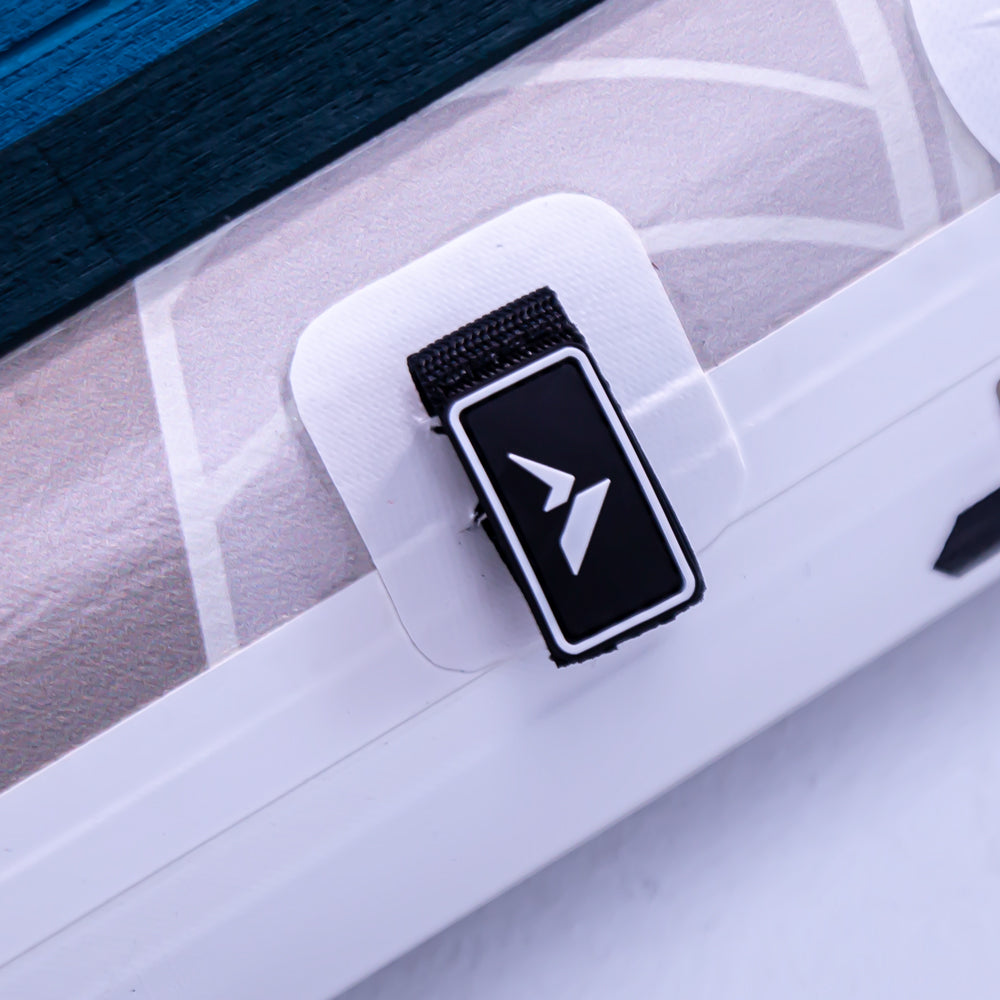 Paddle Holder
Velcro straps with silicone grips securely attach the paddle to the side rail of the board. Fasten your paddle safely at your side when taking a break from paddling or transporting.
Carbon Fiber Rail
The sidewall is constructed of 2 layers of military grade PVC plus an additional layer of carbon fiber to increase rigidity & durability along high impact areas.
Multiple Carrying Handles
Handles are placed in the front, center & rear with two additonal handles positioned above the traction pad.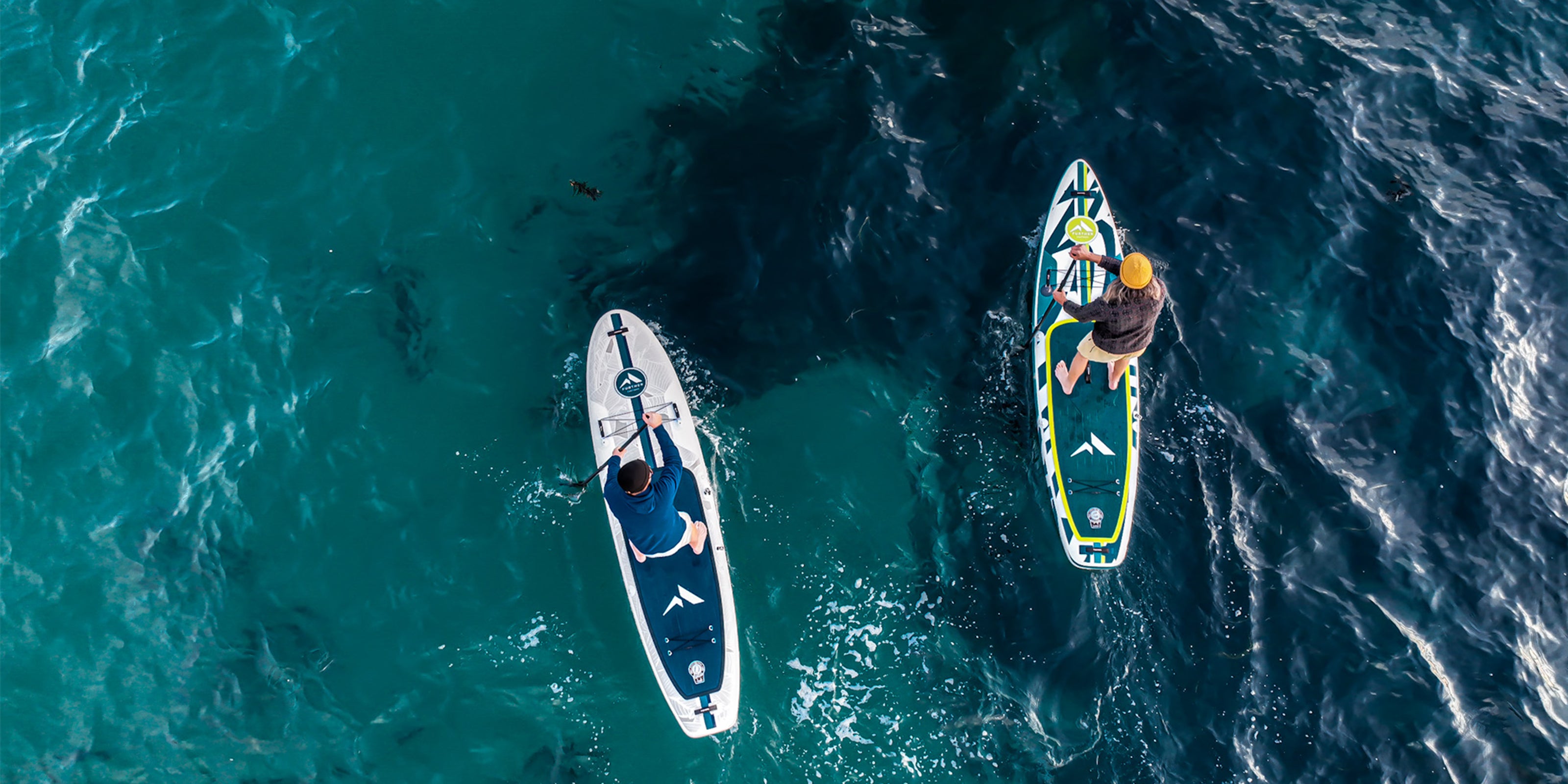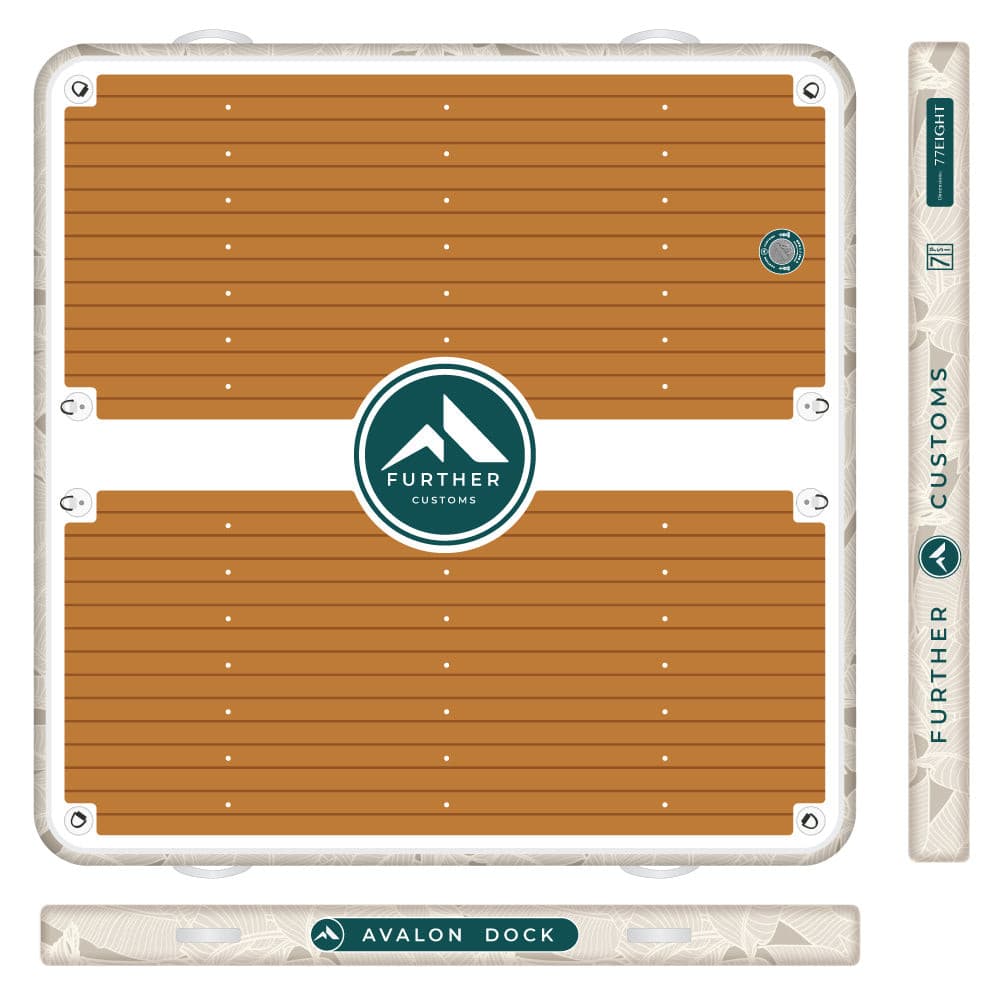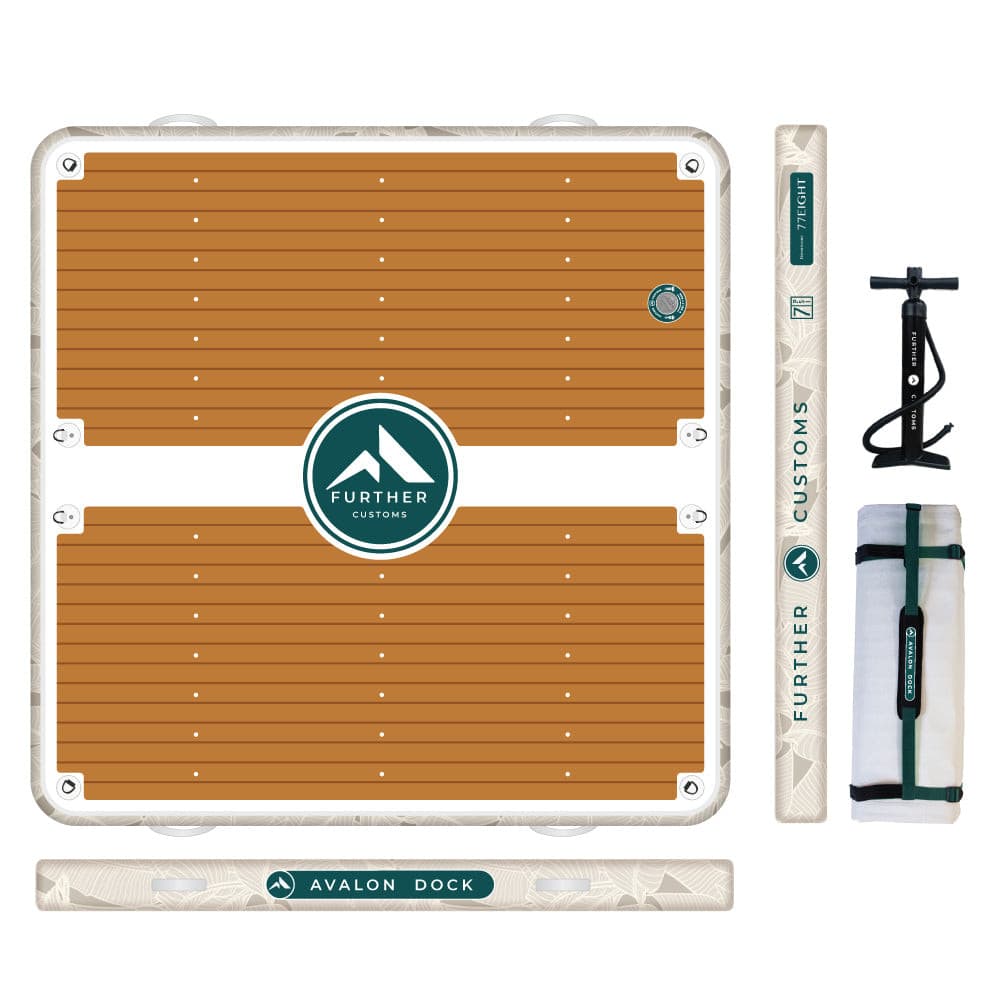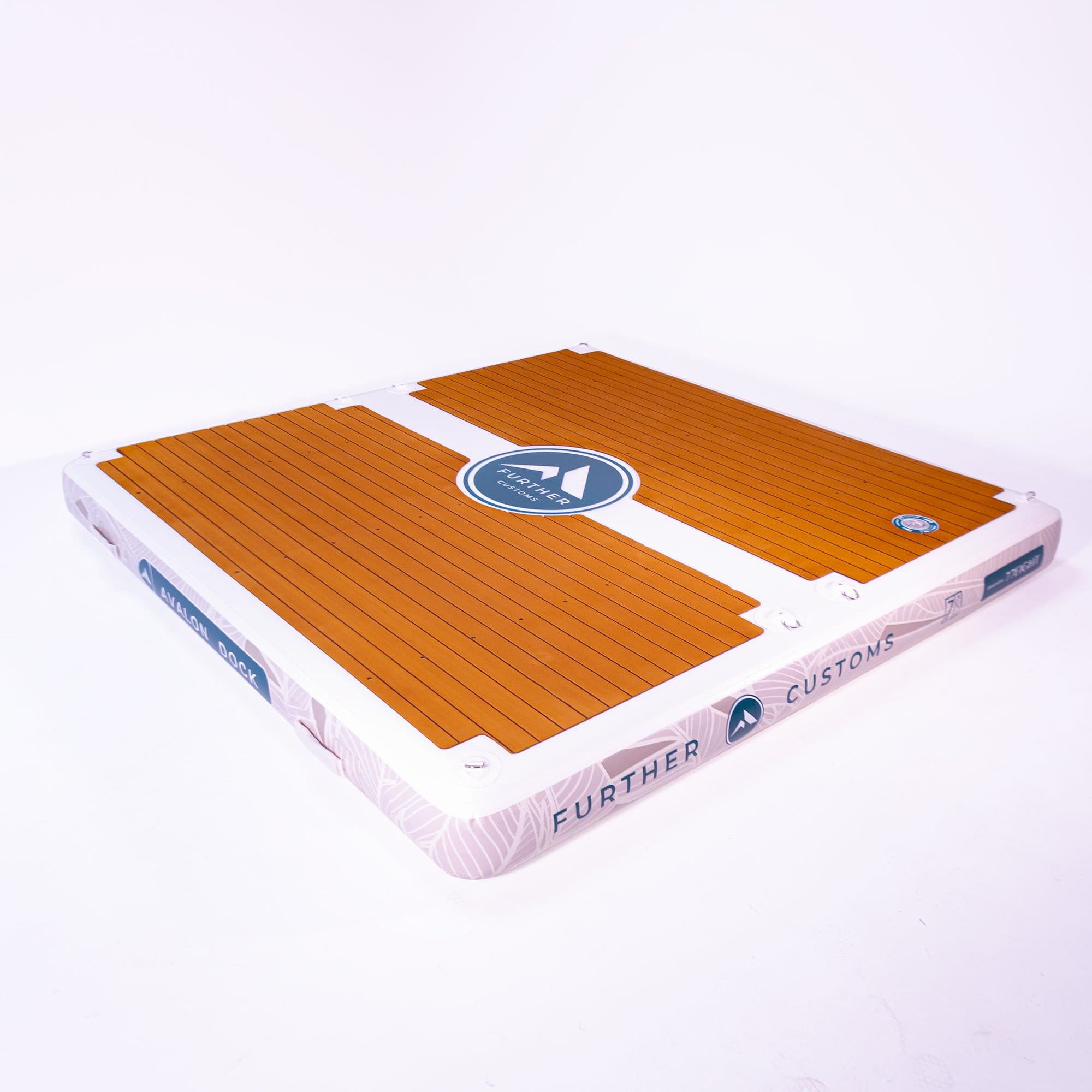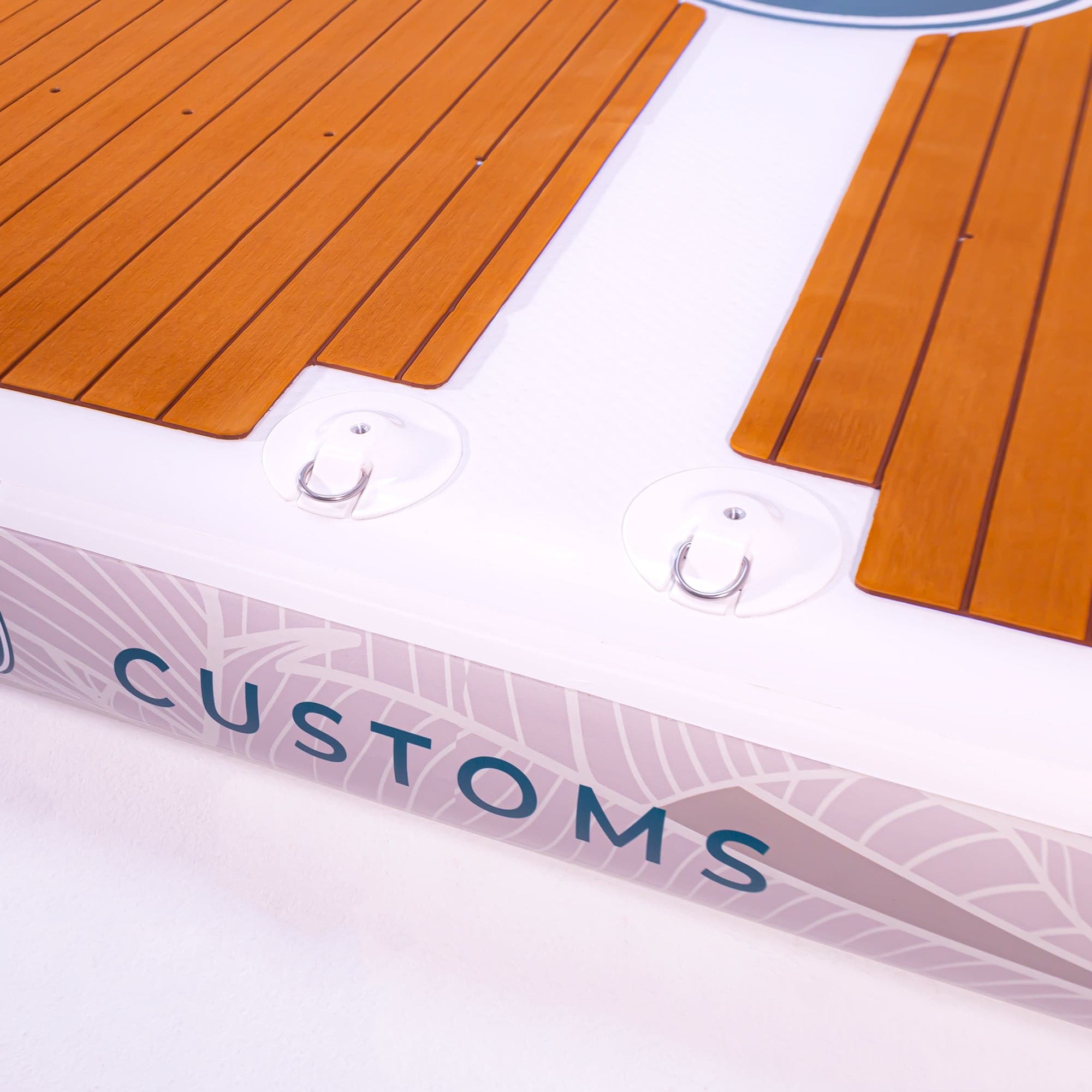 ---
The Avalon Dock inflates to a 7' x 7' swim platform that is 8 inches thick, providing forty-nine square feet of area to lounge on any body of water. This spacious & sturdy dock is designed to enrich your days with friends & family at the local sand bar, lake, river  or marina. An easy to inflate floating island that provides a comfortable area to relax, sunbathe, fish from or simply extend the length of one's boat to accommodate additional guests.
Have a question? We are here to help.
Check out the most common questions our customers asked. Still have questions?
 Contact our customer support, send a text, or reach out to us on chat.

Our customer support is available Monday to Friday: 10am-5:00pm.
Why include the word customs in your brand name?

Our brand designs & manufactures products that are uniquely tailored for our customers to enrich their experiences outdoors. You'll notice that all of our products are made with advanced construction techniques to increase your capacity for adventure. They are packed with extra features & attachment mounts so that they can be customized with special accessories. Additionally, we strive not just to take individuals Further but other brands as well. With that being said, all of our products are available for private & white labeling. Our goal is to raise the standards for innovation and quality throughout the outdoor industry and in doing so bring better experiences & adventures to our customers.
What is included in the paddleboard kit?

All Further inflatable paddle boards include a premium construction board, 3pc carbon fiber adjustable paddle, dual-action & reversible hand pump, touring fin, leash, carrying shoulder strap, & carrying backpack with wheels.
What makes your catamarans different?

Our inflatable catamarans are made by high frequency welding rather than the traditional gluing technique. This makes for a significantly stronger and more durable bond. Additionally, our catamarans are packed with extra features and accessories. While most bench seats are fixed, the Avalon Catamaran series has seats that slide to your preferred position or can be combined to make one large bench seat. Our catamaran includes accessory mounts capable of attaching multiple fishing rods, a ladder, cup holders, and our retractable bimini top.
Yes, we specialize in shipping internationally and can handle all customs duties & fees. We insure and manage the delivery of your order from our doors to yours.
All orders placed on FurtherCustoms.com are shipped via FedEx, DHL & USPS, unless otherwise requested or required. For bulk orders, LTL & FTL quotes are provided and require approval prior to shipping.
How long will it take to get my orders?

It depends on where you would like your order delivered. Orders processed within the USA & Canada will take 5-7 business days to arrive. Overseas deliveries can take anywhere from 7-16 days. Delivery details will be provided in your confirmation email. Custom orders will ship in 60-90 days.
You can contact us through our contact page or chat! We will be happy to assist you.

Our customer support is available Monday to Friday: 10am-5:00pm.
Let customers speak for us