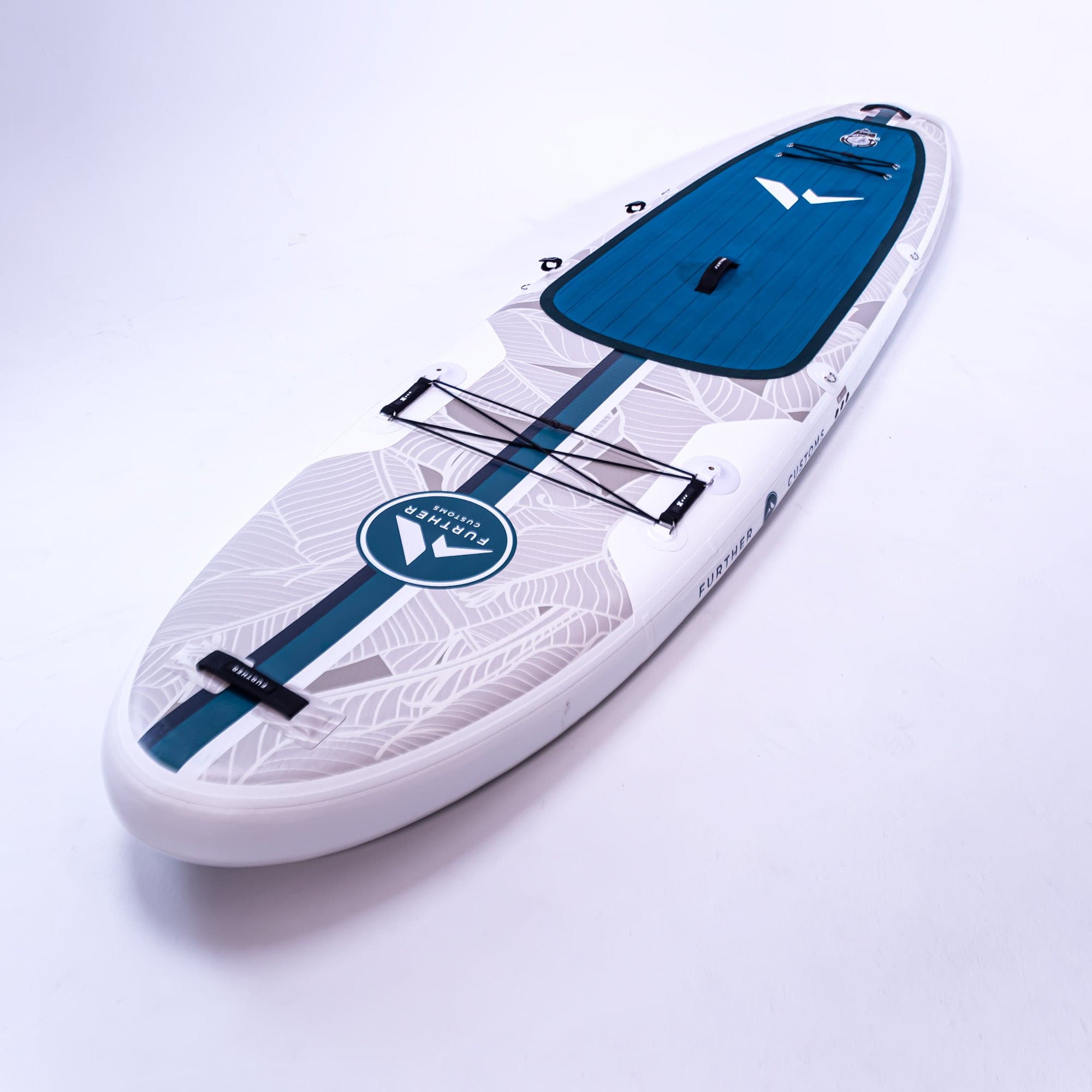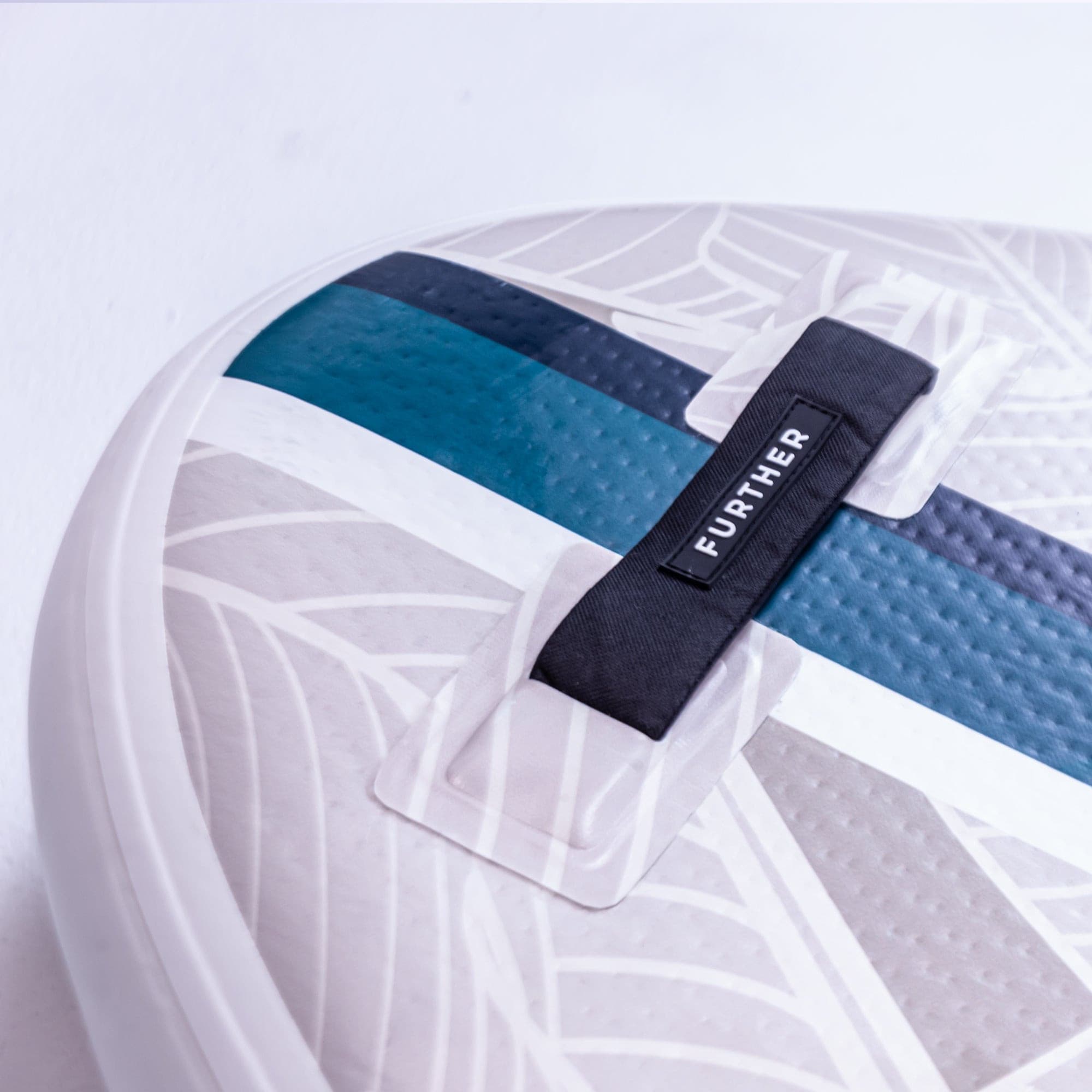 11'0 Avalon Emerald
---
The Avalon Emerald Inflatable Paddle Board is 11'0" long, 32" wide and 6" thick. The premium Woven drop-stitch construction provides a lightweight and responsive feel when paddling. Our 3X Carbon layering process integrates two reinforcing layers of PVC and an extra layer of carbon fiber along the sidewall. This technique significantly increases the boards rigidity for improved speed and stability. Additionally, all of our boards are made using a Welded construction to ensure a lasting & resilient bond against all elements. With a weight capacity of 320 lbs, riders can enjoy this board solo or share their adventure with a loved one.
Standard shipping is included on all orders.
Feature Packed All-Around
The Avalon is designed with the highest quality construction in a stable and responsive all-around shape. This board is packed with extra features, attachments & premium accessories.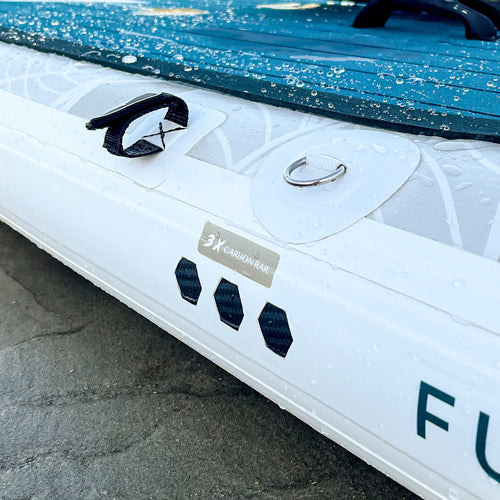 Connection Accessories
Four stainless steel D-rings allow for connecting a seat or the included over the shoulder carrying strap. Additionally, the veclro loop fastens the paddle to the board for hands free transportation.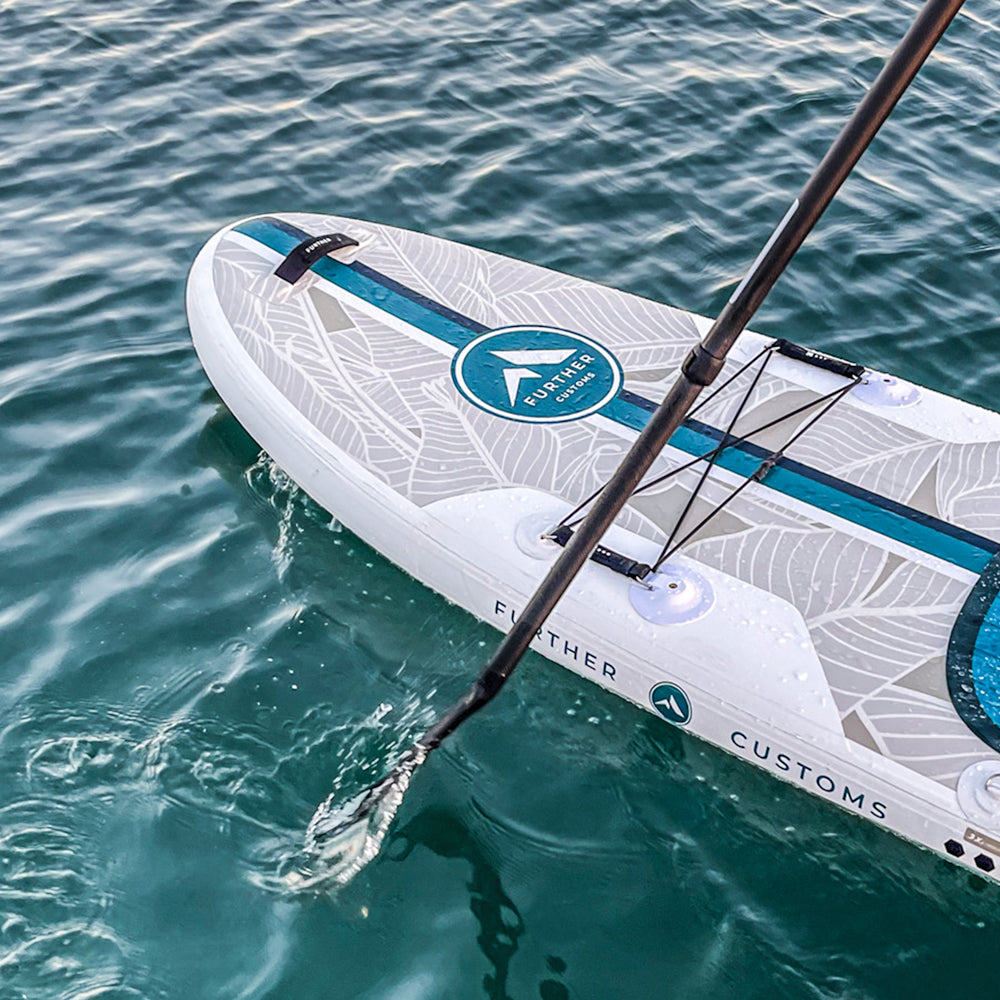 Extra Carrying Handles
A total of five carrying handles are positioned at the rear, center, nose & above the traction pad. Riders can approach the water from any side of the board while maintaining control.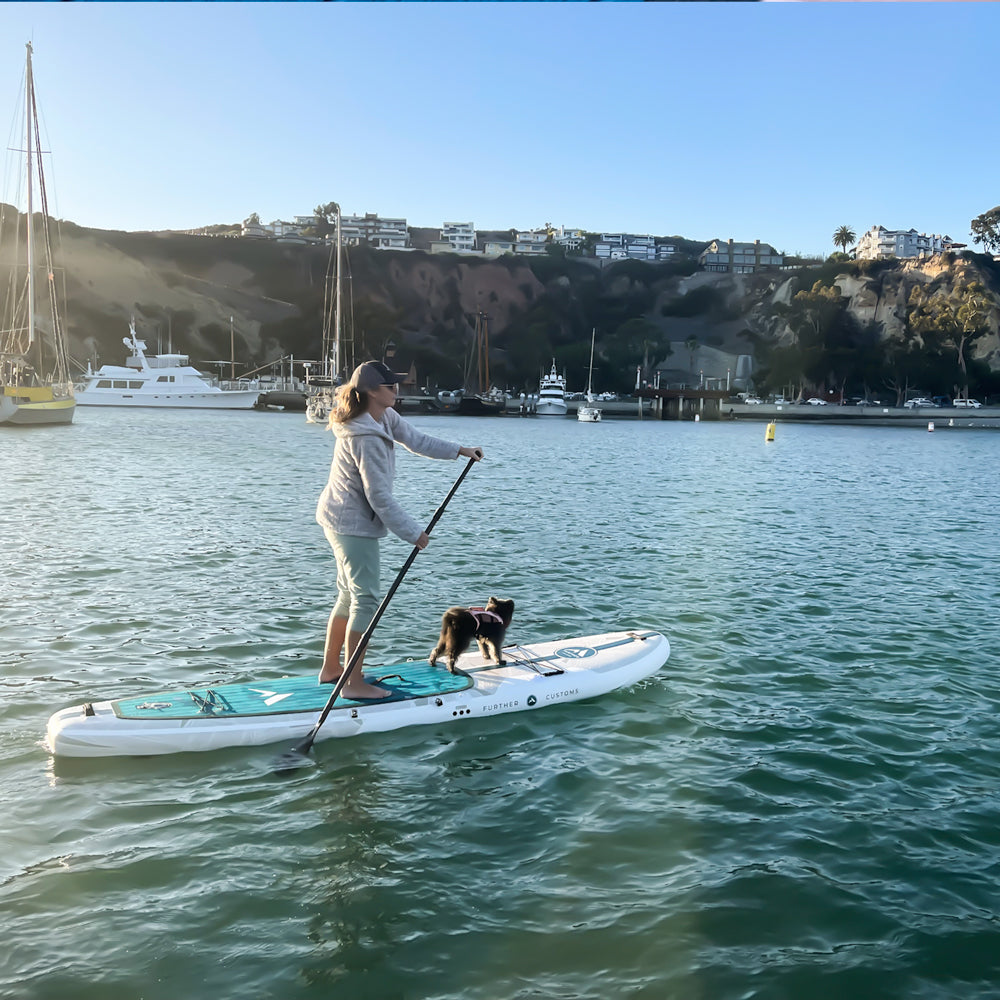 All-Around Shape
The rounded bow & square stern of the board provide optimum surface area for greater stability. This shape provides a comfortable ride in virtually all water conditions.
Extra Features
Touch + to Learn More
Action Mounts
Designed ot allow riders to attach the fishing rod and cup holder accessories.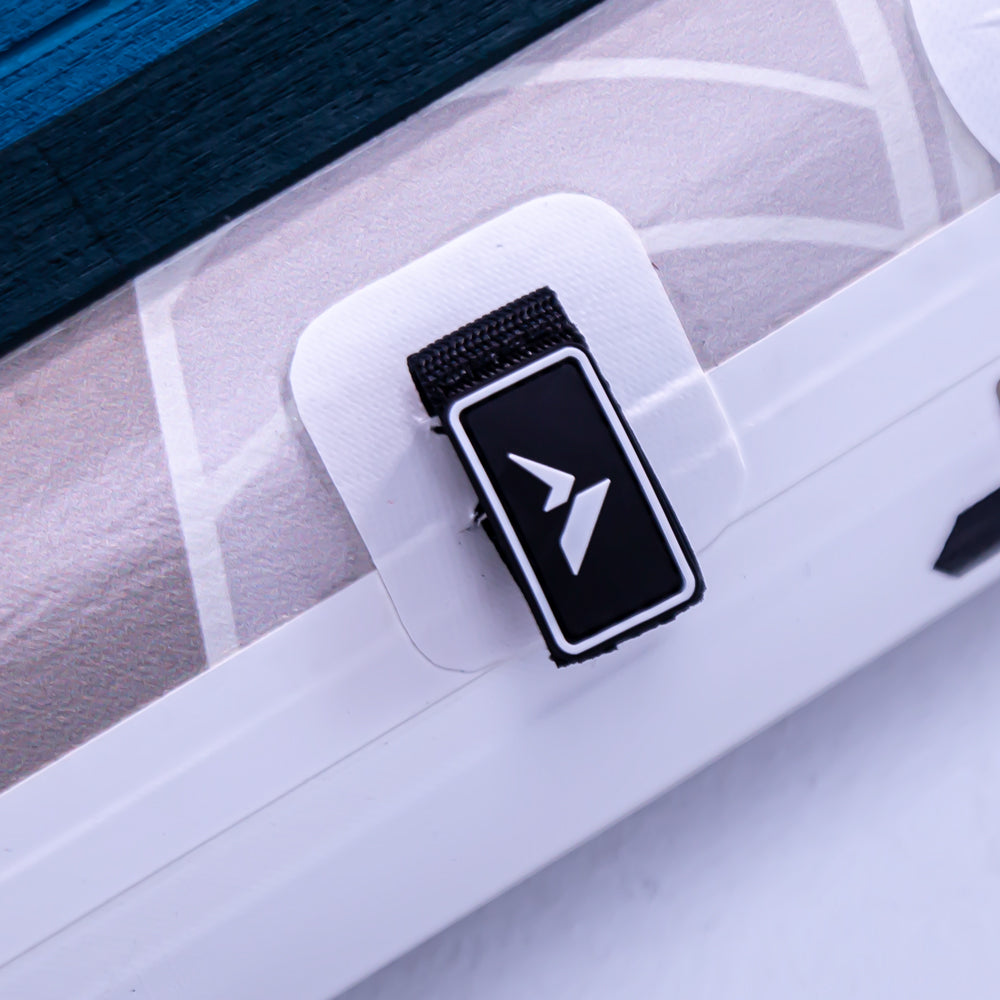 Paddle & Speargun Holdeer
Velcro straps with silicone grips securely attach the paddle to the side rail of the board. Fasten your paddle safely at your side when taking a break from paddling or transporting.
Seat & Strap Mount
Four stainless steel D-rings allow riders to connect a variety of seat attachments or the included shoulder carrying strap for easy & comfortable transport.
Front Handle
Easily pull your board to shore or onto the deck of a boat with the front, center & rear handles.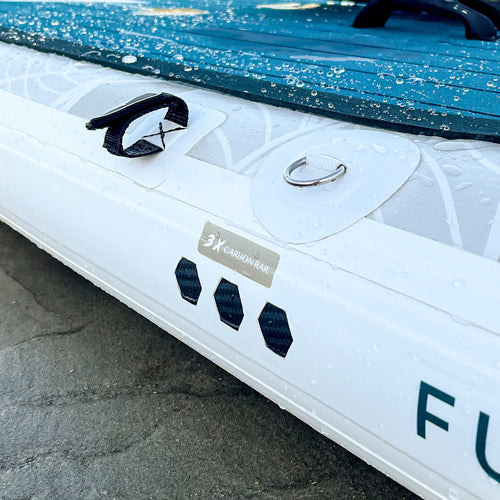 Carbon Fiber Sidewall
The sidewall of each board is made with two layers of military grade PVC and an additional layer of reinforcing carbon fiber. This 3 layer construction provides unrivaled rigidity and durability.
23
Pounds
Lightweight & Travel Friendly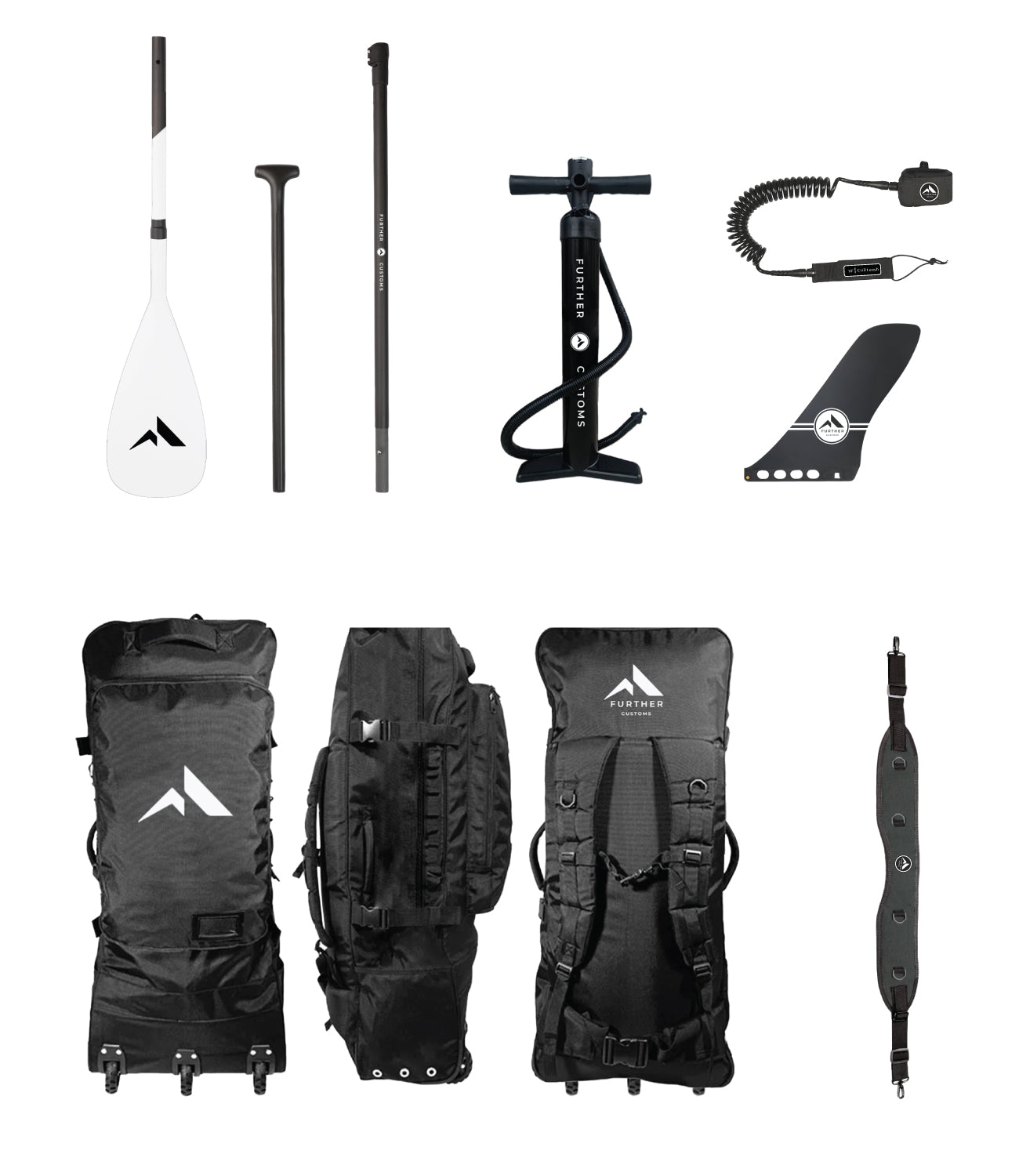 Premium Accessories
Each inflatable paddleboard kit includes a 3pc Adjustable Carbon Fiber Paddle, Wheeled Backpack, Dual Action & Reversible Hand Pump, Tooless Touring Fin, Coil Safety Leash & a Carrying Strap.
This product is rated 5.0 of 5.0 stars.
It has received 3 reviews.
Best purchase ever!
I truly love this paddleboard, best buy ever! It is so easy to inflate and deflate with the electric pump and the all in one carrying bag makes it so simple to just throw in my car and head to the nearest lake after work for some much needed nature therapy!
We used them and we have lost two fins when using boards
Two stayed in two came out
When they work they work well
But two are not working please send two fins to help me get up and working
Thank you
Paddle Board
Love the board. Very well built, easy to store and travel with!
Have a question? We are here to help.Have a question?
Check out the most common questions our customers asked. Still have questions?
 Contact our customer support, send a text, or reach out to us on chat.

Our customer support is available Monday to Friday: 8am-8:30pm.
What kind of fin box is used on these boards?

Further boards are constructed using a universal fin box that allows our customers to use any traditional center fin that can be commonly found at your local surfboard or paddleboard shop. This fin box allows for riders to use aftermarket fins to tailor the board's performance to their prefererence. For example, when riding in rivers or shallow areas a shorter, flexible fin is often recommended. Whereas for long distance paddling a rider may prefer a longer, more rigid fin to improve tracking.
It depends on where you would like your order delivered. Orders processed within the USA & Canada will take 5-7 business days to arrive. Overseas deliveries can take anywhere from 7-16 days. Delivery details will be provided in your confirmation email. Custom orders will ship in 60-90 days.
How long will it take to get my orders?

It depends on where you are. Orders processed here will take 5-7 business days to arrive. Overseas deliveries can take anywhere from 7-16 days. Delivery details will be provided in your confirmation email.
You can contact us through our contact page! We will be happy to assist you.

Our customer support is available Monday to Friday: 8am-8:30pm.
You may also like